Editorials
Bernard-Louis Roques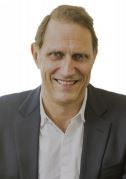 Bernard-Louis Roques
General Partner
& co-Founder,
Truffle Capital
It's that time of year again, when we produce the Truffle 100, search and share the data, an opportunity to reconnect with the stakeholders of the industry. I guess the Truffle 100 has found its place in the European business environment and brings its contribution to the software ecosystem.
You are more than 100,000 to use this free research as a tool, a barometer, a source of data to increase your knowledge and enrich your vision of the European software market. Truffle Capital, CXP and IDC are happy to provide you this service, with the support of the European commission and ESSEC Business School.
With €44 billion in aggregated revenues, 67,000 R&D jobs, 5.2% growth and €7 billion invested into research, the software vendors have become a major component of the European economy and the most important contributor to its innovation.
On the eve of major paradigm changes driven by mobility, cloud computing, applications, they are going through challenging but thrilling transformations. We're experiencing one of the most exiting chapters of the industry's history, and remain reasonably optimistic, betting on the proven resilience and innovative agility outlined year after year in all the Truffle 100 search
Laurent Calot

Laurent Calot
CEO,
CXP Group
We have entered the digital age and there is no turning back. Although not all businesses have made the transition yet, there is now real awareness, shared by everyone, of digital considerations. In sectors such as distribution and finance and in the B2C sector, digital technologies are already revolutionising the way in which businesses interact with their customers. Digitalisation is transforming the value chains of businesses, their business models and their ecosystems. Adopting and making optimum use of technologies, such as cloud computing, mobile technologies, analytics or the Internet of Things, make new business objectives possible. Digitalisation throws the doors wide open to innovation and new projects.
To meet these potentially huge challenges, the software industry is adapting; the European Truffle listing is proof of this. The new solutions offered integrate SMAC (Social, Mobile, Analytics, Cloud) technologies to meet the demand of business users who now require customer-oriented, web-designed tools, access to mobile applications, agile management tools, visual and easy-to-interpret dashboards, and analysis functions capable of deriving value from increasingly large and less structured sets of data. Software publishers have realised that cloud infrastructures and SaaS applications now represent the strongest market driver (with growth rates of between 30% and 40%) and are revising their business models to base their growth on recurring turnover. Finally, software vendors, integrators, service companies and cloud brokers are working to provide a high value-added, business-oriented "service" dimension which will make the difference, boost the competitiveness of businesses and accelerate their modernisation.
Bo Lykkegaard

Bo Lykkegaard
Associate Vice
President, European
Software Research,
IDC
2014 was a year of solid growth overall for Europe's software industry. It was also a year of change, as an increasing proportion of top 100 vendors made significant bets on new cloud businesses to complement their traditional software businesses. IDC estimates that just under half of the top 100 software providers have built or acquires significant cloud offerings today. For those vendors, cloud has moved beyond the trial-and-error state into mainstream business. The ones that have moved first are typically vendors of horizontal business applications, such as marketing, CRM, Human Capital Management, accounting, etc. Three top vendors, SAP, Dassault, and Sage, have each made significant advances in cloud computing.
The question that arise is then: What about the vendors that have not yet made a significant bet in cloud. IDC research shows that different software areas have different level of cloud maturity and hence different urgency of business model transformation. Many industry-specific packaged software applications are replacing custom software or manual processes. They are not at a level of standardization to warrant a software-as-a-service approach. However, IDC believes that by 2020 cloud computing will cover the majority of IT workloads, even in large enterprises. Consequently, all software vendors in Europe must consider the cloud computing model at some point in their planning horizon.
The transition to cloud and major disruptive computing trends, such as mobile applications, real-time analytics, and internet of things, is complex and costly and carries a risk of cannibalizing existing revenue streams from software licenses and maintenance contracts. However, staying abreast of disruptive technology developments is vital for the longer-term sustainability of the European software industry and strong linked to R&D investments and access to capital. For those making the leap, the future holds promises and growth opportunities.
Karl-Heinz Streibich

Karl-Heinz Streibich
Chief Executive Officer,
Software AG
Digitization is changing everything. It is impacting every industry and opening huge new business opportunities for any enterprise that reacts quickly enough with an imaginative and innovative digital strategy. It is having a positive impact on the lives of billions of citizens worldwide through better managing health services to streamlining the use of global resources.
At a national economic level the impact is startling. According to the World Economic Forum , a 10 percentage point increase in a country's digitization index can result in a 0.75% rise in GDP and a 1.02% drop in unemployment. More tangibly, IDC forecasts that the worldwide market for Internet of Things solutions will grow from $1.9 trillion in 2013 to $7.1 trillion in 2020. This is simply the largest growth phase in history.
The growth potential for the Industrial Internet should be music to European ears. It is imperative that Europe leverages its unequalled engineering heritage to spearhead the Industrial Internet. Europe must ensure that it makes an impact in this digital revolution that reflects and builds on its manufacturing economic might.
Digitization is changing everything. Europe has to be at the forefront of this change.
---
Figures
Profits

Profits

2008

2009

2010

2011

2012

2013

2014

% of revenues T 100

SAP
51
46
31
52
48
52
51
39
TOP 3
62
58
40
60
58
59
60
47
TOP 5
67
66
44
66
65
67
68
53
TOP 10
67
66
52
79
79
79
80
63
TOP 50
92
91
84
96
95
97
97
91

The bigger, the more profitable

Profitability

% of revenues

Profits €M 2013

2010

2011

2012

2013

2014

TOP 3
15.2
22.9
17.0
18.5
17.7
3804
TOP 25
12.0
12.9
11.7
5301
TOP 50
12.2
13.5
10.8
12.1
11.1
6174
BOTTOM 50
10.6
5.2
4.6
2.6
3.2
201
BOTTOM 25
13.4
6.9
6.8
7.9
2.3
40

Profit rate

Publicly traded

Breakdown by country

Top five countries in Europe represent 53% revenues

| Country | 2011 | 2012 | SW revenues (€M) 2013 | 2014 | % of total | # SW companies |
| --- | --- | --- | --- | --- | --- | --- |
| Germany | 18 145.7 | 20 328.6 | 21 046.4 | 22 139.7 | 49.8 | 17 |
| UK | 5 497.3 | 5 994.6 | 5 406.8 | 5 524.1 | 12.4 | 19 |
| France | 4 040.9 | 4 348.9 | 5 028.5 | 5 433.0 | 12.2 | 22 |
| Sweden | 2 163.5 | 2 326.5 | 2 392.0 | 2 434.5 | 5.5 | 7 |
| Netherlands | 2 187.9 | 2 236.2 | 2 103.7 | 2 223.9 | 5.0 | 7 |
| Poland | 1 005.5 | 1 152.4 | 1 229.1 | 1 384.8 | 3.1 | 2 |
| Switzerland | 1 110.8 | 1 208.2 | 1 174.6 | 1 319.9 | 3.0 | 5 |
| Norway | 486.2 | 544.8 | 639.2 | 688.5 | 1.5 | 3 |
| Italy | 516.5 | 557.3 | 625.8 | 687.0 | 1.5 | 3 |
| Belgium | 530.1 | 594.9 | 580.2 | 596.8 | 1.3 | 1 |
| Finland | 618.1 | 625.0 | 656.6 | 568.3 | 1.3 | 5 |
| Czech Republic | 248.5 | 361.9 | 375.9 | 444.7 | 1.0 | 2 |
| Denmark | 194.4 | 287.0 | 303.0 | 353.5 | 0.8 | 2 |
| Slovakia | 149.1 | 256.4 | 301.4 | 328.8 | 0.7 | 1 |
| Austria | 116.4 | 126.3 | 120.3 | 162.7 | 0.4 | 2 |
| Spain | 176.7 | 198.4 | 189.2 | 129.2 | 0.3 | 2 |
| Total | 37 187.7 | 41 147.7 | 42 172.6 | 44 419.3 | 100.% | 100 |

World-class national champions

| Vendor | Country | Revenues (€M) | % of T100 |
| --- | --- | --- | --- |
| SAP | DE | 17 244 | 38.8 |
| Dassault Systemes | FR | 2 079 | 4.7 |
| Sage | UK | 1 540 | 3.5 |
| Hexagon | SE | 1 442 | 3.2 |
| Wincor Nixdorf | DE | 1 367 | 3.1 |
---
R&D and Jobs

Top 5 countries represent 84% of total R&D jobs
| Countries | Number of R&D employees | % of total | R&D investment (€M) | % of total |
| --- | --- | --- | --- | --- |
| Germany | 25 654 | 38.1 | 2 966.8 | 42.0 |
| UK | 7 520 | 11.2 | 915.6 | 13.0 |
| France | 12 374 | 18.4 | 1 066.5 | 15.1 |
| Sweden | 4 799 | 7.1 | 461.9 | 6.5 |
| Netherlands | 5 534 | 8.2 | 700.4 | 9.9 |
| Poland | 4 198 | 6.2 | 130.7 | 1.9 |
| Switzerland | 1 052 | 1.6 | 155.7 | 2.2 |
| Norway | 1 170 | 1.7 | 142.1 | 2.0 |
| Italy | 1 575 | 2.3 | 97.8 | 1.4 |
| Belgium | 493 | 0.7 | 69.0 | 1.0 |
| Finland | 824 | 1.2 | 101.6 | 1.4 |
| Czech Republic | 712 | 1.1 | 78.1 | 1.1 |
| Denmark | 638 | 0.9 | 76.5 | 1.1 |
| Slovakia | 382 | 0.6 | 36.2 | 0.5 |
| Austria | 194 | 0.3 | 25.2 | 0.4 |
| Spain | 290 | 0.4 | 34.8 | 0.5 |
| Total | 67 407 | 100.0 | 7 058.9 | 100.0 |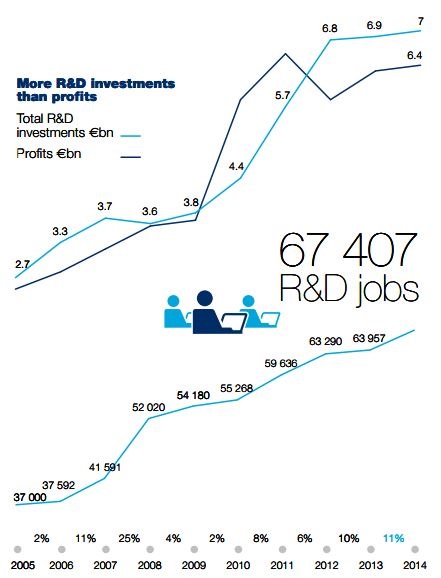 ---
Major M&A transactions

2014
Advent International acquired Unit4
Autodesk acquired Delcam
Automic acquired Orsyp
COR&FJA changed name to msg life AG
Dassault Systemes acquired Accelrys
Dassault Systemes acquired Quintiq
Dassault Systemes acquired SimPack
Hexagon acquired Devex
Hexagon acquired iLab Sistemas
Hexagon acquired Mintec
Hexagon acquired North West Geomatics
Hexagon acquired Vero Software
KKR reduced ownership of Visma from 76% to 31.3%, HgCapital increased from 16% to 31.3%, and Cinven acquired 31.3%.
Lexmark acquired ReadSoft
Misys acquired Custom Credit Systems
Misys acquired IND Group
Northgate Information Solutions sold off its Public Services division to Cinven
Opera Software acquired AdColony
Sage acquired PayChoice
SAP acquired Concur
SAP acquired Fieldglass
SAP acquired SeeWhy
Schneider Electric acquired Invensys
Software AG acquired JackBe
Software AG sells off IDS Scheer Consulting to The Scheer Group
Sopra Group acquired the COR&FJA Banking Solutions
Sopra Group acquired Steria
Wincor Nixdorf acquired Datec Retail Systems
2015
Apax acquired Exact
Asseco Group acquired Exictos SGPS
AVG Technologies acquired Norman Safeground
Bridgepoint acquired eFront
Cegedim sold off CRM solutions to IMS Health
Compugroup Medical acquired Medicitalia
Dassault Systèmes acquired Modelon
GAD merged with Fiducia and changed name to Fiducia & GAD
Gemalto acquired Safenet
Hexagon acquired Ecosys
Hexagon acquired Q-DAS
IFS acquired VisionWaves
InfoVista acquired Ipanema Technologies
Keysight Technologies acquired Anite
Lexmark acquired Kofax
Microfocus acquired Attachmate
Permira acquired TeamViewer from GFI Software
Qlik acquired Vizubi and NPrinting
Unit4 acquired Three Rivers Systems
Visma acquired e-conomic
Vista Partner acquired Advanced Computer Software
Wincor Nixdorf acquired services business from Brink
Wolters Kluwer acquired Effacts Legal Management Software
Wolters Kluwer acquired SureTax
---
European software vendors ranking 2015